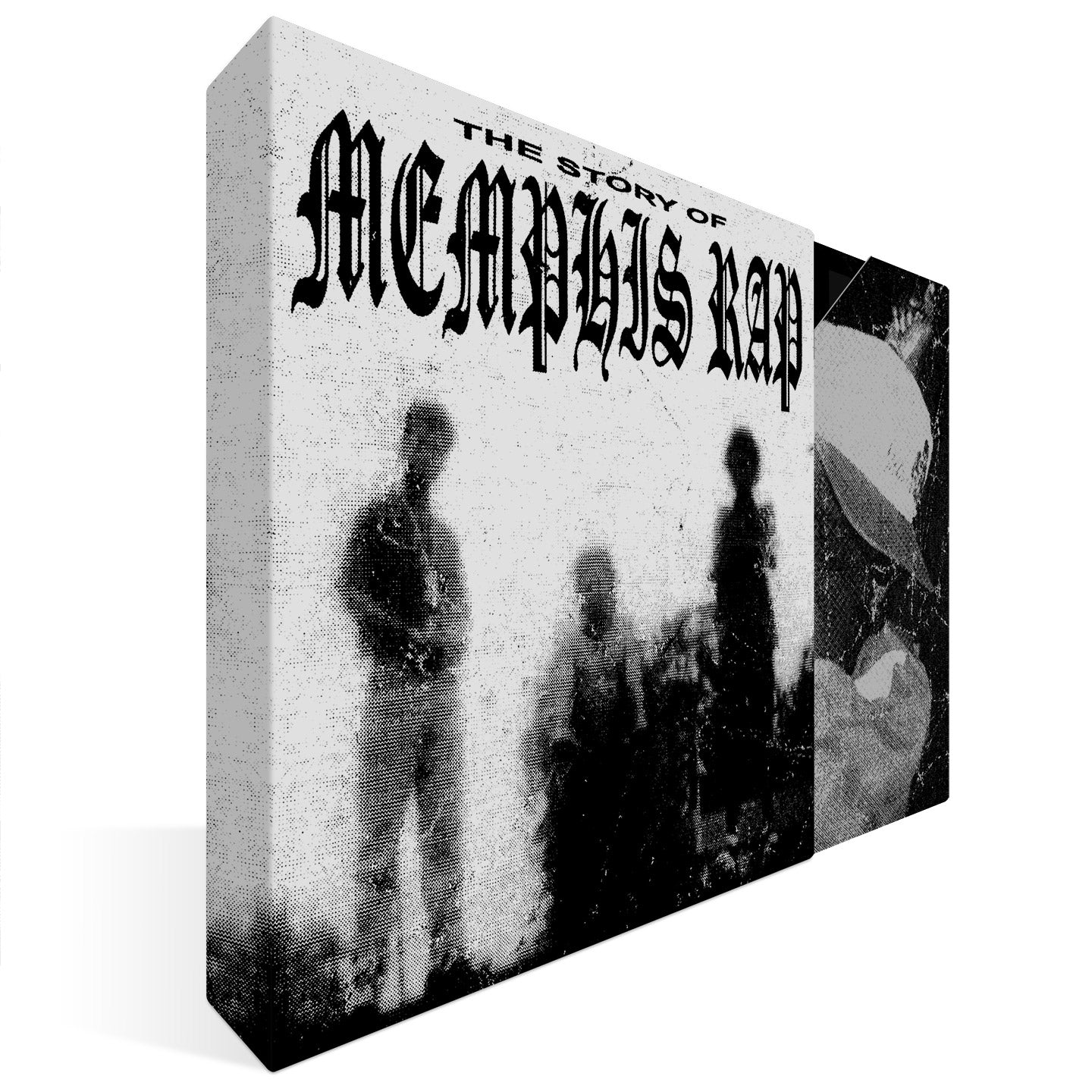 The Story Of Memphis Rap (Box Set)
Now-Again
Regular price

$295.00 USD

Regular price

Sale price

$295.00 USD

Unit price

per
Shipping & Billing
Vinyl box set: 9 albums (11 LPs), 180g black vinyl, 28p book, and exclusive box. 

Pre-order for February 2024 shipping. 
Size: 13 x 13 x 2 inches. Total shipping weight: 9lbs. Flat rate shipping: $10 via USPS Media Mail in the United States; $50 USD via DHL for all international orders.
"This is important, to really know the honesty and truth about how far it goes down in Memphis… and who is  responsible, and who did things…. Things can be deleted -  things that need to known, you feel me? We are reassured of having a purpose, and being a part of this important scene. You know how the game is." - Gangsta Blac
Introducing The Story of Memphis Rap, a trunk-rattling nine-album, 11-LP slice of the origins of Memphis Rap, capturing a city and a scene as it began to create the most distinctive rap music of the '90s. The Story of Memphis Rap, a collaboration between VMP and Now-Again Records, collects nine albums that were originally released within Bluff City limits and occasionally to other cities in the region. 
This was a unique hip hop strain – visceral and often vicious. It was a local, low-fi, cassette-tape based movement - yet it went on to change the course of rap music. 
These albums have never been pressed on vinyl – until now…From Skinny Pimp and Carmike to Gangsta Blac and Shawty Pimp, these albums have been relegated to the proverbial bins of history and bootlegged, with unofficial copies still fetching top dollar on the secondary market. The albums in this box set were all licensed directly from their original creators, and come on black vinyl with artist-approved imagery for their first LP iterations packaged in an slipcase box.
Photos & Flyers from The Story of Memphis Rap liner notes book

Albums:
∙ Gimisum Family - Gimisum Family (1993)
∙ Skinny Pimp - Vol. 1 (1993)
∙ Gangsta Blac - Breakin Da Law (1994)
∙ Carmike - Comin' At Yo Ass (1994)
∙ Shawty Pimp & MC Spade - Vol. 2: Gotta Get My Pimp On (1994)
∙ MC Money & Gangsta Gold - Da Hard Ov Frayser (1995)
∙ DJ Zirk - Looken for tha Chewin (1996)
∙ Lil Ced - Playin' by the Rules (1997)
∙ MC Mack - Chapters of tha Mack for Life (2000)
Bluff City Bangers. First edition limited to 1,000, pressed on 180g black vinyl at GZ. Lacquers cut by Cicely Balston at AIR Mastering at Alchemy.
Archival Mastering. Cassette transfers were done by Scott Bomar and Adam HIll at Electraphonic Recording in Memphis, Tennessee. Jason Bitner restored and remastered the audio for vinyl, and lacquers were cut by Cicely Balston at AIR Mastering.
How was the audio sourced? The masters for this low-fi, cassette based movement were often just that - cassettes themselves. In many if not all instances, the original four-track cassette masters have been lost, but Now-Again Records searched far and wide for the best iterations of the music contained in The Story of Memphis Rap.
Listening Notes. Read the story of these nine albums in a sprawling, 28-page Listening Notes booklet, written by box set co-producer Torii MacAdams. It captures The Story of Memphis Rap starting with the city's founding and ending with an auto supply shop that sold these albums over the counter, with all points in between.
Premium Commemorative Box. Designed by Errol Richardson, this box captures the original spirit and style of these previously cassette-only releases, with its distinctive use of type and texture. Each artist involved in this Anthology contributed thoughts to the packaging and art direction.
"This keeps the legacy rolling and the legacy means everything. It's your reputation - your name - and you guard it with everything. And this is keeping it out, and alive, in the world…. so that even those that don't know, but want to know, can find out about what happened. It can be archived. Forever." - Skinny Pimp