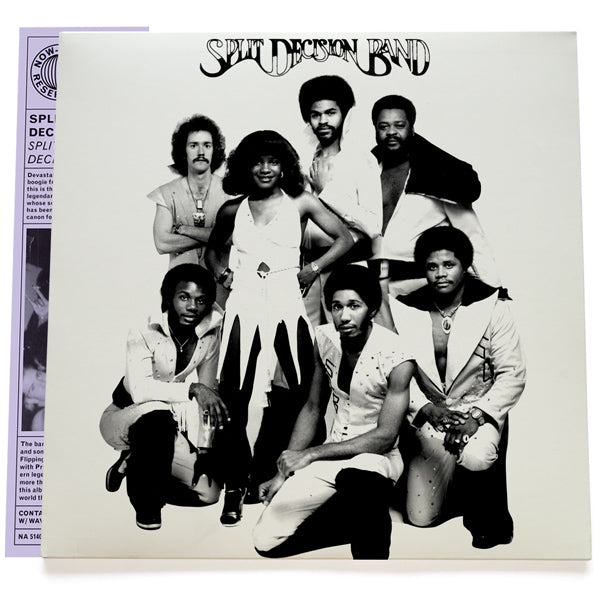 Split Decision Band - Split Decision Band
Now-Again
Regular price

Sale price

$50.00 USD

Unit price

per
Shipping & Billing
Split Decision Band have been known to deep soul, funk and disco collectors for decades for their sought after 7" "Watching Out/Dazed," long thought to be the band's only recordings.
Egon tracked down Split Decision Band's vocalist and songwriter Gordon Starr Flipping in the hopes of more and got it – with Watching Out, Now-Again presents a never-before-released album of devastatingly good disco and boogie from the unlikely city of Des Moines, Iowa. Flipping's collaborations with Prince made him a Midwestern legend, but his band's music is more than an urban tall tale – this album finally proves to the world their merits.
Subscribers also received Now-Again's reissue of Split Decision Band's original 7" – now available here.

Now-Again Reserve: Each release comes with an exclusive 7" or 12" of music only issued with the Now-Again Reserve edition • Download card for WAV files of the album • Booklet with extensive liner notes detailing the history of the album. • Remastered by Elysian Masters head engineer Dave Cooley in Los Angeles, delicately lacquered by Electric Mastering in London and perfectly pressed by Independent Record Pressing in Bordentown, New Jersey. • Vinyl gatefold jackets made in North America with OBI strip and resealable bag; CDs made in North America as 6-panel eco-wallets • Each of these albums are produced with the direct participation of their creators, all of whom saw their original albums' releases disappear into the ether.