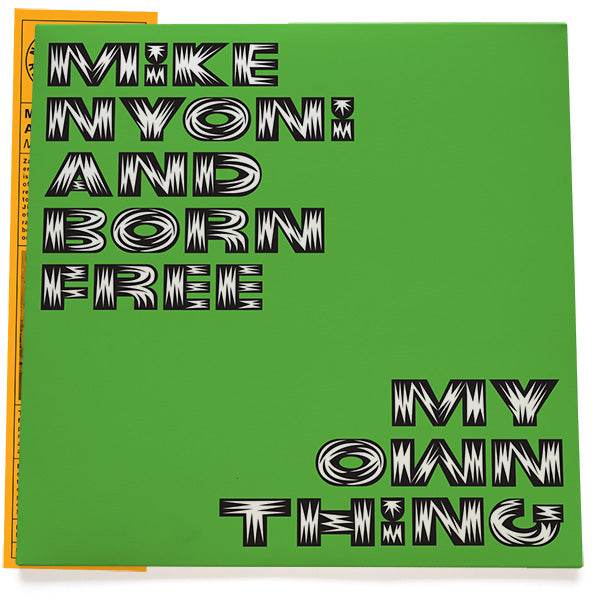 Mike Nyoni & Born Free - My Own Thing
Now-Again
Regular price

Sale price

$50.00 USD

Unit price

per
Shipping & Billing
2/LP gatefold vinyl | Now-Again Reserve
Zamrock musician Mike Nyoni and Born Free's – My Own Thing: some of the funkiest music issued on the African continent in the 1970s. Bonus 2nd LP contains the groovy genesis of the Kalindula music Nyoni would master in the 80s…
Zambian guitarist and singer/songwriter Mike Nyoni's music is Zamrock only because he came of age during the country's rock revolution. His preferred wah-wah to fuzz guitar, James Brown to Jimi Hendrix. His 70s recordings – often politically charged, and ranging from despondent to exuberant – are amongst the funkiest on the African continent. He was also one of the only Zamrock musicians to see his music contemporaneously issued in Europe.
This anthology collates works from his three 70s LPs – his first, with the Born Free band, and his two solo albums Kawalala and I Can't Understand You – and presents a singular Zambian musician on par with celebrated artists Rikki Ililonga, Keith Mlevhu and Paul Ngozi.
Bonus 2nd LP – preciously available only to subscribers, but now available here – contains the genesis of the Kalindula music Nyoni would create in the 80s. Extensive, photo-filled booklet contains an overview of the Zamrock scene and Nyoni's story. Download card for WAV files, with bonus tracks.
Now-Again Reserve: Each release comes with an exclusive 7" or 12" of music only issued with the Now-Again Reserve edition • Download card for WAV files of the album • Booklet with extensive liner notes detailing the history of the album. • Remastered by Elysian Masters head engineer Dave Cooley in Los Angeles, delicately lacquered by Electric Mastering in London and perfectly pressed by Independent Record Pressing in Bordentown, New Jersey. • Vinyl gatefold jackets made in North America with OBI strip and resealable bag; CDs made in North America as 6-panel eco-wallets • Each of these albums are produced with the direct participation of their creators, all of whom saw their original albums' releases disappear into the ether.